Lori Perez LAc. – Tallgrass Lead Equine Instructor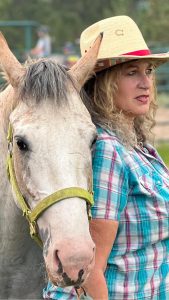 As a licensed acupuncturist, Lori has practiced clinical acupuncture and eastern Asian medicine in Colorado since 1995. She is inspired by working with horses and facilitating the Tallgrass equine acupressure courses.
Lori graduated from Pacific College of Oriental Medicine, San Diego Campus
Magna Cum Laude with a Master of Science degree in Oriental Medicine.
Colorado State Certified Acupuncturist and 
Nationally Certified Acupuncturist
Lori is a Certified 4 level Equine Assisted Activities Facilitator and Certified Electro-Equiscope Technician. Additionally, she has extensive training in functional medicine, nutritional, herbal medicine, Taoist Feng Shui, and other eastern medicine modalities.


Lori is honored to be named the Tallgrass Lead Equine Instructor. She is offering  the comprehensive, hands-on Tallgrass curriculum. A graduate of Tallgrass Animal Acupressure Institute, she has completed over 300 hours of training and has worked directly with the founders of The Tallgrass Animal Acupressure Resources, Nancy Zidonis and Amy Snow, since 2013.
Lori and Peter Perez own Crowning Touch Clinics Parker and CT at The Ranch / Coaching through Horses in Black Forest, CO. They offer facilitation in equine activities for healthcare providers, therapists, equine professionals, horse owners, and equine enthusiasts. Their 501(c)(3), Medicine Meadow Healing Herd provides Forever Sanctuary Home for Adopted Rescued Equines with training and healing.
Over the years, Lori has successfully implemented the practice of traditional Eastern medicine for Western medicine practices. She has practiced in primary care medicine, pain management centers and integrative chiropractic offices. She has worked closely with allied health professionals and has served as operations manager of a large alternative health healing center.
Currently, Lori continues to study the healing arts with an emphasis in equine acupressure, Tui Na, and natural horsemanship.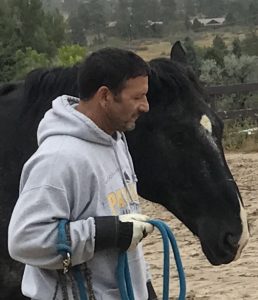 Peter Perez LMT is a NAVY Veteran.
He is a Colorado State Liscensed Neuromuscular Therapist, Certified Personal Trainer, Athletic, Fitness, Lifestyle and EAL Coach.
Peter has been serving the Military and other communities in Health Services since the 1980's when he served as an Occupational Therapist Assistant at Balboa Naval Hospital in San Diego.
Peter is co-owner of Crowning Touch Therapeutics Parker, 2004 and Crowning Touch at The Ranch, Black Forest 2021.
Peter utilizes a combination of the latest advances in Frequency Specific Microcurrent combined with Ancient Traditional Methods of Tui Na and Modern Massage Therapy Protocols to provide an Integrated Holistic Approach to Healing and Recovery . In Addition to his dedication and proficiency in Body Work, Peter is skilled in Functional Medicine and is a Certified Lifestyle Coach as well as a Certified Affiliate Instructor for The Tall Grass Animal Resources Group in Equine Tui Na.
He is Facility Manager at CT at The Ranch and Coaching thru Horses.
The facility hosts Equine Assisted Activities for Therapists and Individuals, As well as hosting Intro level thru Advanced Workshops for Animal Body Workers and Technicians of Electro-Equiscope. 
Come for A Visit! Crowning Touch @ The Ranch!  Enjoy Healing work in a park like setting nestled at the foot of Pikes Peak in The Forest
 Featuring  Acupuncture and Introductory Natural  Horsemanship and Equestrian Skills